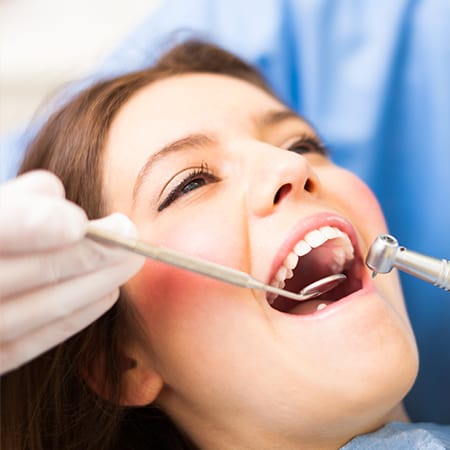 Root canal, or root filling, is exactly as it sounds – a treatment to fill the tooth's root canal. Root canal treatment (also referred to as root canal therapy or endodontic therapy) is made necessary when a cavity is allowed, through neglect, to reach all the way to this pulp. If there are any two words that individuals dread most when it comes to dental care, root canal are those words. Often, root canals are associated with negative words like pain and expensive.
Root Canal Treatment are designed to save your natural tooth so that you avoid extraction and painful complications down the road.
If you suspect you have a dental problem, the most important thing to do is to quickly come and see us at our Uppal Dental Clinic. If you have any of the symptoms listed below you need to have a proper diagnosis which our family dentists can provide for you. The symptoms are:
You have chronic tooth sensitivity to hot or cold liquids
Your gums are swollen
You have ongoing, severe or throbbing toothache
Your teeth are sensitive upon eating sweets
Your teeth are sensitive to biting
You have spontaneous toothache without a clear cause
You experience tooth pain due to atmospheric pressure fluctuations, such as when flying
If you're in pain and are nervous to undergo root canal therapy, you aren't alone. But when you choose Uppal Dental Clinic for your needs, you can be confident knowing we offer the technology, cost-effectiveness, compassion, and comfortable environment designed to optimise your health and experience at the dentist.
So if you're on the lookout for a trusted Root Canal Treatment in Bay Area , What are you waiting for? Start wearing a smile you can be truly proud of today, with the help of our skilled professional dentist in Bay Area! Call Uppal Dental now on to book an appointment at Uppal Dental to restore your damaged tooth back to its full function and appearance. Let us help you achieve a dazzling, straight smile! We can provide you with cost-effective and safe solutions to help you gain your confidence back. Contact us at +1 510-786-1780 for a consultation.